Fastest growing companies
Every year our India meets Britain Tracker, developed in collaboration with the Confederation of Indian industry, identifies the fastest-growing Indian companies in the UK. This year's tracker shows 37 companies of 900 have revenue growth of at least 10%.
These companies earned combined revenues of £1.6 billion and delivered an average annual growth rate of 38%.
You can find a full list of the UK's fastest-growing Indian companies in our 2022 tracker.
Most popular sectors and locations
Of the 37 fastest-growing Indian companies, 35% are in technology and telecoms. This is the ninth year in a row that the sector has dominated the tracker. The proportion of pharmaceuticals and chemicals companies stands at 27% for the second year in a row. For the first time, real estate companies feature among the fastest-growing Indian businesses in the UK.
This year, for the first time, more of the fastest-growing companies are located outside London (20 companies) than in London (17 companies). Outside London, the North is the most popular region, with 22% of all tracker companies located there.
Download the India meets Britain Tracker 2022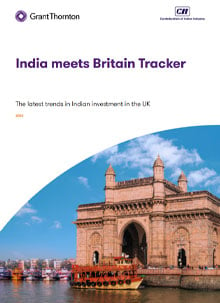 India continues to invest in the UK
During 2021-2022, the number of Indian-owned businesses in the UK grew, along with the number of people they employ. This reflects the increasing appetite for Indian businesses to invest in and set up greenfield operations in the UK despite Brexit and COVID-19 challenges.
Against the backdrop of pandemic-related disruption, India remained a leading source of foreign direct investment into the UK during 2020-21, accounting for 99 FDI projects, second only to the United States in terms of project numbers.
Throughout the year, the two countries continued to develop their trading relationship. In May 2021, Boris Johnson and Prime Minister Modi announced an Enhanced Trade Partnership (ETP) and confirmed new UK-India trade and investment worth £1 billion. This included £533 million of new Indian investment into the UK, which is expected to create more than 6,000 jobs.
Read more https://www.grantthornton.co.uk/insights/india-meets-britain-tracker/